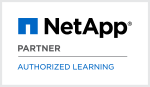 ONTAP Cluster Administration (ONTAP 9.7) (ONTAP9ADM)
Who should attend
Network Engineers
Channel Partners
System Engineers
Certifications
This course is part of the following Certifications:
Course Objectives
Describe how ONTAP fits into the NetApp Cloud and Data Fabric strategy
Identify supported ONTAP configurations
Create a cluster
Manage ONTAP administrators
Configure and manage storage resources
Configure and manage networking resources
Create and configure a storage virtual machine (SVM)
Create and manage FlexVol® volumes
Implement storage efficiency features
Create protocol servers within an SVM
Upgrade and revert ONTAP patches and releases
Follow On Courses
Course Content
This 3-day, instructor led course uses lecture and hands-on exercises to teach basic administration and configuration of an ONTAP cluster. You will learn to use the cluster shell and OnCommand® System Manager to manage storage and network resources. The hands-on labs allow you to practice working with ONTAP features and manage your storage and network resources using the cluster shell and OnCommand System Manager.
Includes: ONTAP commands for software versions 8.3.x to 9.0
Online Training
Duration 3 days
Price
US$ 2,700.-

NetApp Training Units:

36 NTU
Courseware language: English
Classroom Training
Duration 3 days
Price
Australia:

US$ 2,700.-

NetApp Training Units:

36 NTU
Courseware language: English
Click on town name to book
Schedule
Guaranteed date: iTLS will carry out all guaranteed training regardless of the number of attendees, exempt from force majeure or other unexpected events, like e.g. accidents or illness of the trainer, which prevent the course from being conducted.
Instructor-led Online Training: This computer icon in the schedule indicates that this date/time will be conducted as Instructor-Led Online Training.
This is a
FLEX
course, which is delivered both virtually and in the classroom.
Germany
Switzerland
Zurich

This is an German language FLEX course.

Time zone: Europe/Zurich

CHF 2,970.-

Enroll

Zurich

This is an German language FLEX course.

Time zone: Europe/Zurich

CHF 2,970.-

Enroll

Zurich

This is an German language FLEX course.

Time zone: Europe/Zurich

CHF 2,970.-

Enroll

Zurich

This is an German language FLEX course.

Time zone: Europe/Zurich

CHF 2,970.-

Enroll

Zurich

This is an German language FLEX course.

Time zone: Europe/Zurich

CHF 2,970.-

Enroll
Austria
guaranteed date!

Vienna (iTLS)

This is an German language FLEX course.

Time zone: Europe/Vienna

2,700.- €

Enroll

Vienna (iTLS)

This is an German language FLEX course.

Time zone: Europe/Vienna

2,700.- €

Enroll

Vienna (iTLS)

This is an German language FLEX course.

Time zone: Europe/Vienna

2,700.- €

Enroll

Vienna (iTLS)

This is an German language FLEX course.

Time zone: Europe/Vienna

2,700.- €

Enroll

Vienna (iTLS)

This is an German language FLEX course.

Time zone: Europe/Vienna

2,700.- €

Enroll
Asia Pacific
FLEX & Online Training

Please see below our alternative, English language, FLEX course options.

Online Training

Time zone: Europe/London

Course language:

English

Enroll

guaranteed date!

Online Training

Time zone: Europe/London

Course language:

English

Enroll

London, City

This is an English language FLEX course.

Time zone: Europe/London

£ 2,364.-

Enroll

London, City

This is an English language FLEX course.

Time zone: Europe/London

£ 2,364.-

Enroll
Australia
India
Bangalore

This is an English language FLEX course.

Time zone: Asia/Calcutta

US$ 1,350.-

Enroll

Bangalore

This is an English language FLEX course.

Time zone: Asia/Calcutta

US$ 1,350.-

Enroll

Bangalore

This is an English language FLEX course.

Time zone: Asia/Calcutta

US$ 1,350.-

Enroll

Bangalore

This is an English language FLEX course.

Time zone: Asia/Calcutta

US$ 1,350.-

Enroll

Bangalore

This is an English language FLEX course.

Time zone: Asia/Calcutta

US$ 1,350.-

Enroll

Bangalore

This is an English language FLEX course.

Time zone: Asia/Calcutta

US$ 1,350.-

Enroll

Bangalore

This is an English language FLEX course.

Time zone: Asia/Calcutta

US$ 1,350.-

Enroll
Europe
Bulgaria
Online Training

Time zone: Europe/Sofia

Course language:

English

Enroll
Czech Republic
Online Training

Time zone: Europe/Prague

Course language:

English

Enroll
France
Paris

This is an French language FLEX course.

Time zone: Europe/Paris

2,700.- €

Enroll

Paris

This is an French language FLEX course.

Time zone: Europe/Paris

2,700.- €

Enroll

Paris

This is an French language FLEX course.

Time zone: Europe/Paris

2,700.- €

Enroll

Paris

This is an French language FLEX course.

Time zone: Europe/Paris

2,700.- €

Enroll

Paris

This is an French language FLEX course.

Time zone: Europe/Paris

2,700.- €

Enroll

Paris

This is an French language FLEX course.

Time zone: Europe/Paris

2,700.- €

Enroll

Paris

This is an French language FLEX course.

Time zone: Europe/Paris

2,700.- €

Enroll

Paris

This is an French language FLEX course.

Time zone: Europe/Paris

2,700.- €

Enroll
Greece
Online Training

Time zone: Europe/Athens

Course language:

English

Enroll
Hungary
Online Training

Time zone: Europe/Budapest

Course language:

English

Enroll
Netherlands
Utrecht

This is an English language FLEX course.

Time zone: Europe/Amsterdam

2,700.- €

Course language:

English

Enroll

Utrecht

This is an English language FLEX course.

Time zone: Europe/Amsterdam

2,700.- €

Course language:

English

Enroll

Utrecht

This is an English language FLEX course.

Time zone: Europe/Amsterdam

2,700.- €

Course language:

English

Enroll

Utrecht

This is an English language FLEX course.

Time zone: Europe/Amsterdam

2,700.- €

Course language:

English

Enroll
Poland
Online Training

Time zone: Europe/Warsaw

Course language:

Polish

Enroll

Online Training

Time zone: Europe/Warsaw

Course language:

Polish

Enroll

Online Training

Time zone: Europe/Warsaw

Course language:

Polish

Enroll
Portugal
Romania
Online Training

Time zone: Europe/Bucharest

Course language:

English

Enroll
Slovakia
Online Training

Time zone: Europe/Bratislava

Course language:

English

Enroll
Slovenia
Online Training

Time zone: Europe/Ljubljana

Course language:

English

Enroll
Spain
United Kingdom