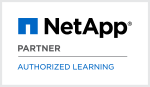 ONTAP Cluster Installation Workshop (COIW)
Who should attend
NetApp and partner PSEs who are responsible for system installation
Prerequisites
ONTAP Fundamentals (ILT)
ONTAP Administration (ILT)
Universal NetApp FAS Installation (WBT)
NetApp Installation Standard (WBT)
Course Objectives
This advanced installation course prepares you to deliver ONTAP® system installation services in a way that meets NetApp® quality standards and uses NetApp best practices. With your laptop and the appropriate tools, you practice all installation tasks and set up NetApp storage controllers and shelves in a clustered configuration. You learn how to set up and test access to the system and the AutoSupport connection, and you learn how to conduct a customer handoff briefing.
This course focuses on enabling you to do the following:
Complete pre-installation tasks
List the cluster cabling options and restrictions
Install and update cluster and management switches
Install, configure, and test a two-node switched cluster
Provide a customer with the appropriate information when you are handing off a system
Online Training
Duration 2 days
Price
Classroom Training
Duration 2 days
Price
Australia:

US$ 2,700.-

NetApp Training Units:

36 NTU
Click on town name to book
Schedule
Instructor-led Online Training: This computer icon in the schedule indicates that this date/time will be conducted as Instructor-Led Online Training.
This is a
FLEX
course, which is delivered both virtually and in the classroom.